LB Ranch
New Smyrna Beach, FL
This exceptional riding arena and barn were constructed for the LB Ranch in New Smyrna Beach, FL. This 150′ x 288′ clear span building demonstrates the power of steel construction and provides year-round riding options in any weather.
Private Barn
Franklin, TN
This private barn located in Franklin, TN features a 24 gauge BL216 Brite Red Kynar coated roof and is a 180 x 260 building.
Coushatta Lodge/Horse Barn
Hurtsboro, AL
Coushatta Lodge/Horse Barn is located just outside of Hurtsboro, AL. This 10,260-square-foot facility is privately owned and maintained.
Equipment Building
Wray, GA
This is a 40' x 60′ x 14′ gable building with two open 20' x 60′ x 14′ lean-to buildings on each side. The facility is located on a farm in Wray, GA, and is primarily used for equipment storage.
Farm Buildings
Lone Jack, MO
A project requiring multiple pre-engineered metal building structures totaling 450,000 square feet for a cattle farm and processing facility in Lone Jack, MO.
UGA Tifton Gambrel Barn
Tifton, GA
Gambrel barns have been quintessential to the University of Georgia (UGA) Tifton campus since 1920. So when it was time to add a new one, UGA turned to Vulcan Steel Structures to manufacture its 5,100-square-foot addition in Tifton, GA. It tops out at 42 feet in height and has a 24-gauge PBR Kynar roof coated in UGA Tifton's classic bright red.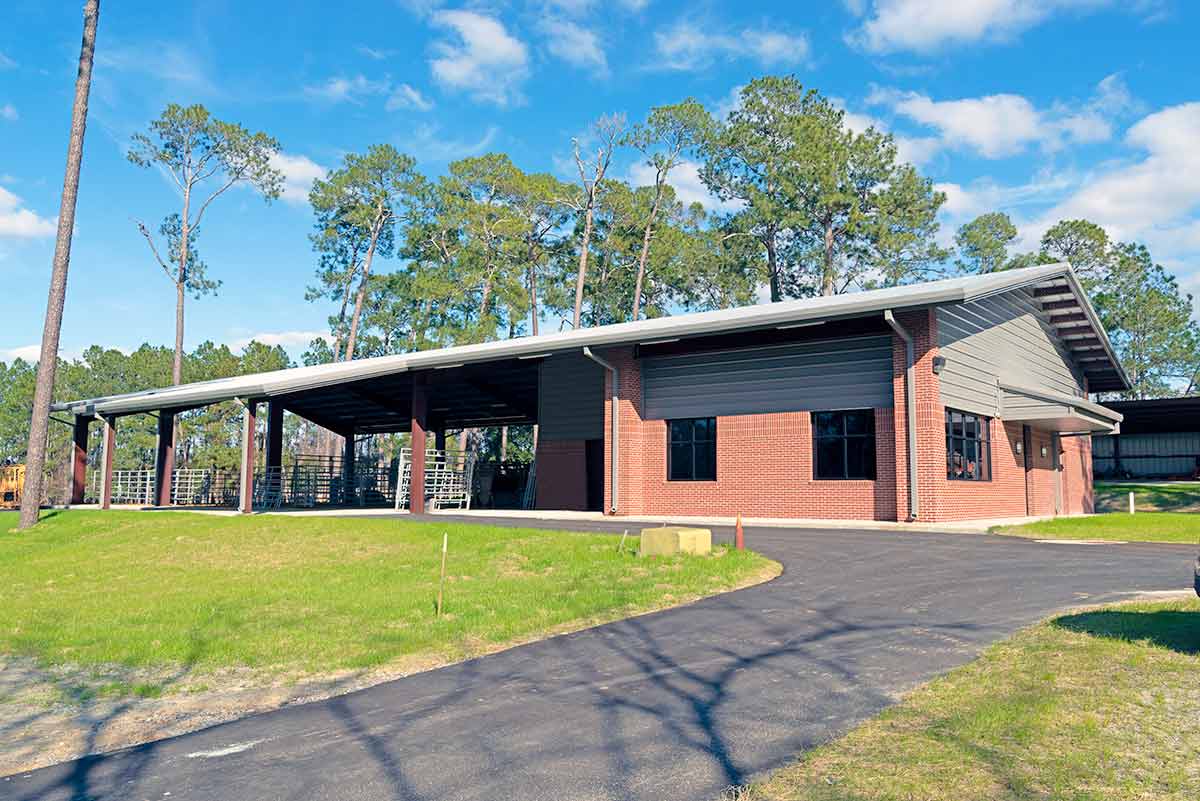 UGA Tifton Campus: College of Veterinary Medicine Facility
Tifton, GA
This UGA Tifton Campus: College of Veterinary Medicine haul-in facility for large animal clinical services was designed to enhance students' and researchers' abilities to serve the animal agricultural industry. Comprised of a 24-gauge UD 324 roof and 26-gauge Kynar PBR walls, this nearly 10,000-square-foot space in Tifton, GA, is accented with brick and includes 5-inch overhang and eave extensions around the building.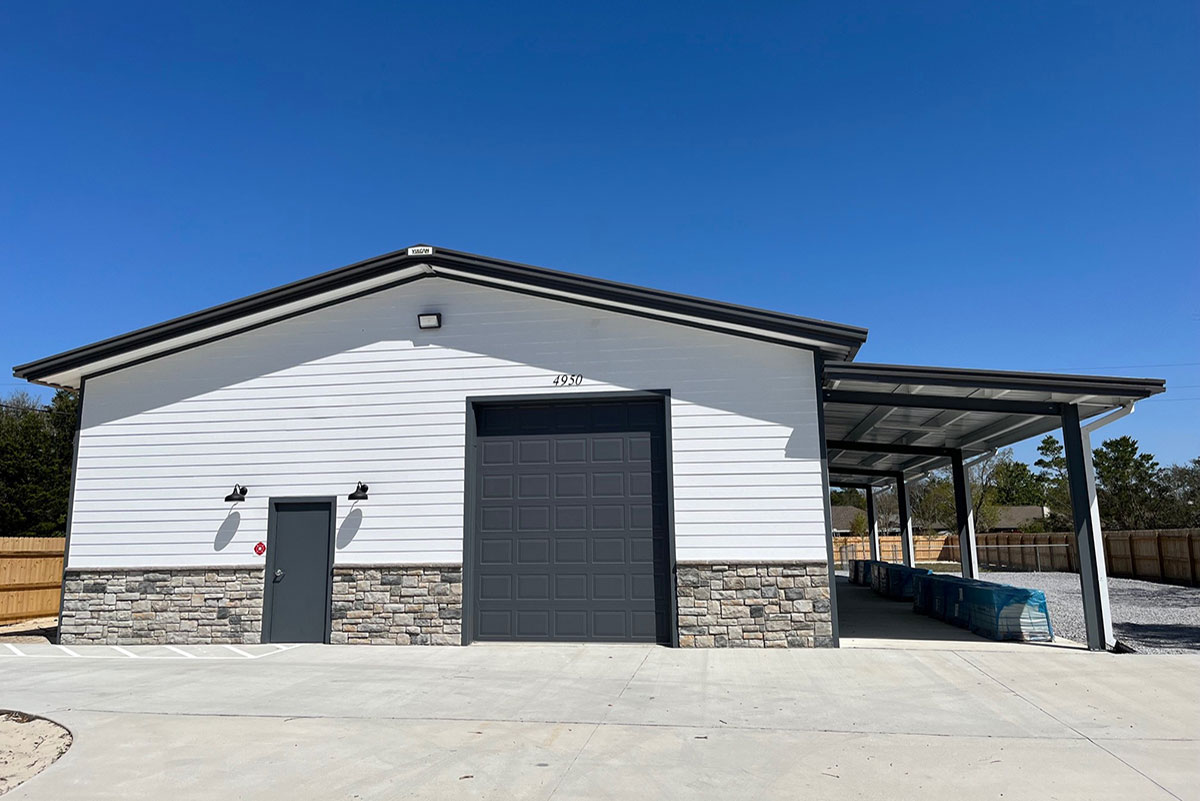 Veterinary Emergency Referral Center
Gulf Breeze, FL
The Veterinary Emergency Referral Center in Gulf Breeze, FL. added this 3900 square-foot building to house veterinarian supplies for the clinic. The building features a Hardi-Board front endwall.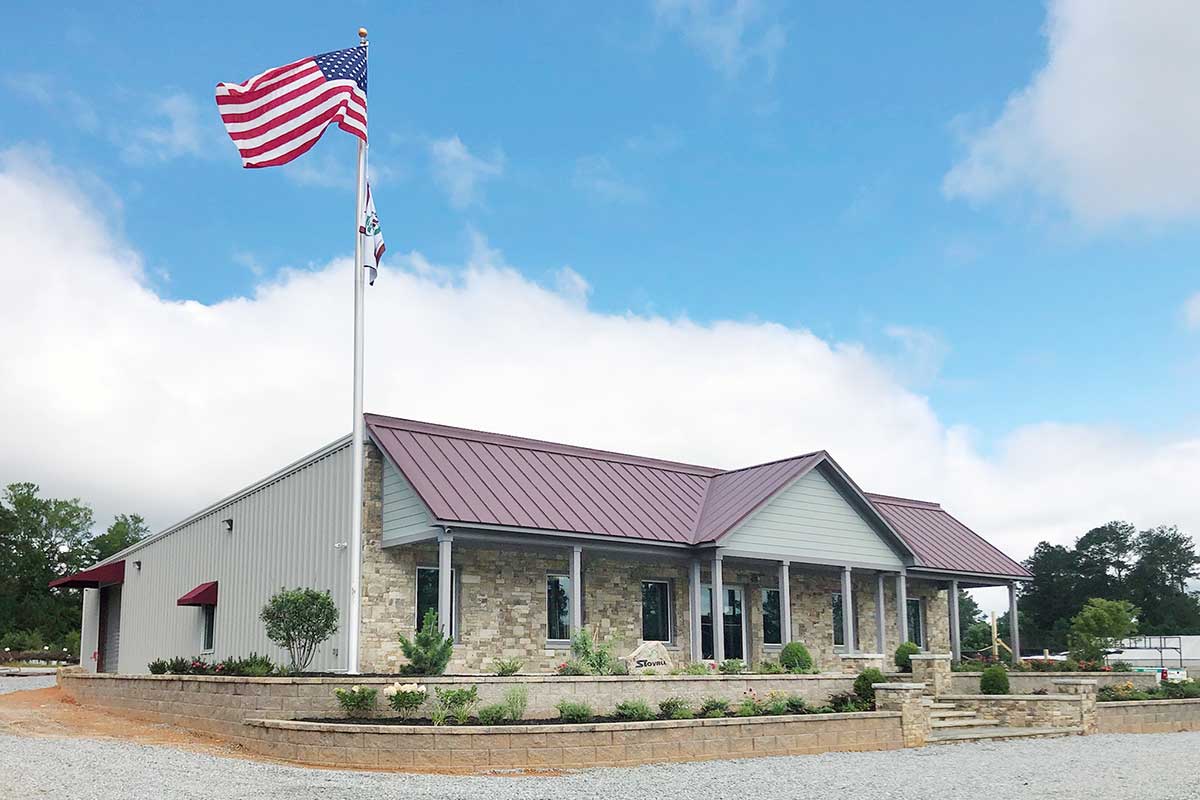 Stovall Nursery
Cataula, AL
Stovall Nursery has been serving the area with quality products and expert landscaping services for more than 70 years, and now Cataula, AL, is home to this new 4,600-square-foot nursery building. It is a single slope building with 26-gauge standard color PBR roof panels and 26-guage standard color PBR wall panels. It features a parapet wall across the front sidewall and standard liner panels throughout the interior.