vulcan-customer-service-rev
vulcan-customer-service-rev
Customer service is like steel—it's ultimately the foundation of all we do.
From the moment you contact our customer service representatives, you will be expertly guided through the design of a building tailored to your exact specifications, right down to the foundation, trim and paint.
When you initially call, you will talk to a coordinator who takes care of everything—from the time the order comes in to the time it goes to the shop. We've cut out layers of processing in order to minimize any chance of error when we design and manufacture our buildings.
When you ask for pricing on a building or components, you receive a quote with an easy-to-follow detailed description. We follow up with a materials list that accompanies the delivery of your building. Our customer service department continues to assist you after your building has been delivered, along with our highly trained field service technicians.
Our start-to-finish oversight allows the entire manufacturing and shipping process to be videotaped and catalogued into the customer service archives, enhancing accountability and transparency.
Ken Ringe, President of Bayview Construction Services answers the question "What should you look for in a metal building manufacturer?"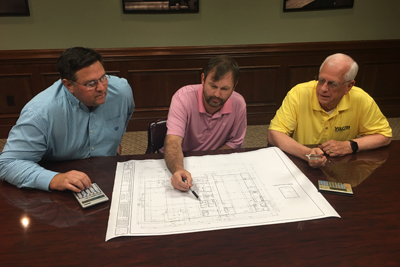 "There's nothing more important than being there for your customer. Communicating constantly with our customers is something that sets us apart."
–Jimmy Richardson, Customer Service Manager