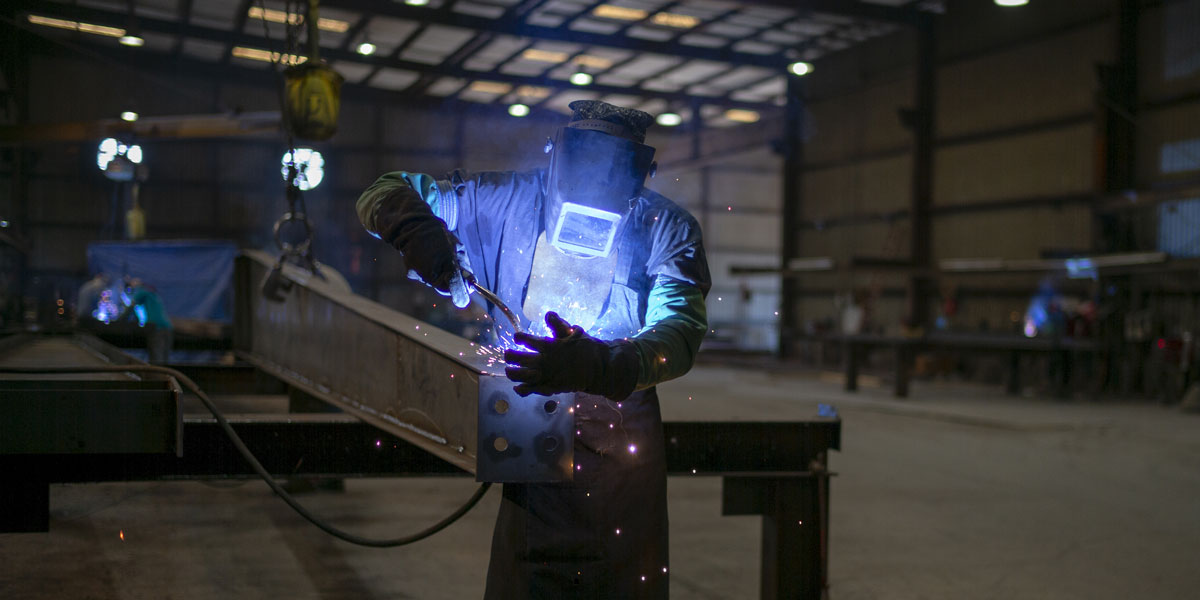 A certified welder fits and welds plates onto columns and rafters at the Vulcan Steel Structures, Inc. manufacturing facility in Adel, Georgia.
Vulcan Steel Structures, Inc. Forges Its Name in Metal
by Tracy Torma
Steve Browning was studying mythology in college in 1985 when his father decided to rebrand a company specializing in steel building construction. "Dad wanted a name with more national appeal, so I suggested Vulcan, the name for the Roman god of fire and the forge," Steve recalls.
Based in Adel, Georgia, population 5,000-plus, Billy Browning didn't want to be branded as only a local company, so he took his son's suggestion and formed Vulcan All Steel Structures, Inc. Since then, the company, now Vulcan Steel Structures, Inc. (Vulcan Steel), has grown from a small metal building fabricator/contractor to the largest steel building manufacturer in Georgia, with 125 employees. As one of the largest privately owned steel building manufacturers in the country, Vulcan Steel designs, manufactures and ships more than 1,000 buildings a year across the globe. The company has delivered over 25,000 buildings.
ESTABLISHING AN INDUSTRY
To understand the growth of Vulcan Steel, one needs to look at the man who founded the company. Billy grew up in Adel and attended Auburn University in Alabama for a short time before returning home to begin his career. Working for a finance company, he married and started his family, before taking a job with a firm in Jacksonville, Florida, that sold pharmaceutical products for livestock.
Automated poultry houses were revolutionizing the poultry industry, and Billy saw the potential for steel buildings in the agricultural and commercial sectors. In 1967, Billy and his wife, Barbara, moved back to Adel, where he started his metal building career. He became a metal building dealer for Cuckler Steel Buildings, a national manufacturer in Monticello, Iowa.
Strict design limitations and long lead times motivated Billy, in 1973, to open his own metal building manufacturing plant, Browning Steel, Inc. Over the years, Billy not only established other steel building businesses before founding Vulcan Steel, he is associated with inspiring others to start steel building companies in Cook County, Georgia. Today, Adel's steel building industry employs approximately 500 people. Thanks to Billy's pioneering efforts in metal buildings, Adel is known as the "steel building capital of the South," according to Vulcan Steel's website.
Steve, President/CEO, joined the business full time in 1988 after graduating from college and playing professional baseball for the Baltimore Orioles organization. His brother Brian, Executive Vice President, joined in 2000. "When we first started out, Vulcan Steel was a small company focused on metal buildings, but we also performed as a contractor and provided a number of other services," Steve says. "We had the ability to design the buildings and manufacture the rigid frames. We would design and detail the complete building, but we'd outsource the roof, wall panels, purlins and girts. We also contracted to pour the concrete foundation, erected the buildings and sometimes did the electrical and interior finish work.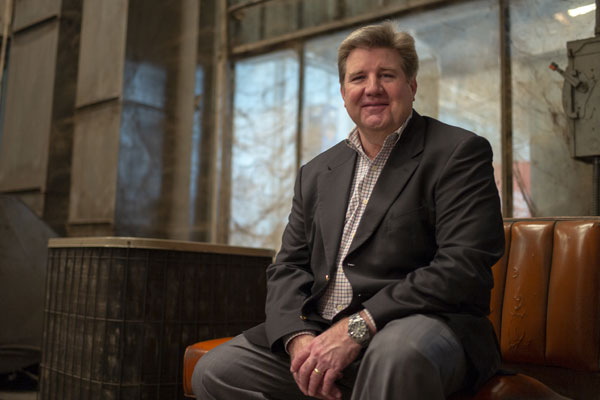 Having grown up around his father's business, Steve Browning joined Vulcan Steel Structures, Inc. full time in 1988.
Although business was good, the company was limited in its ability to grow due to the vast array of services it was managing. As Steve gained more experience in the industry, in the mid-1990s, the company transitioned to become a building systems manufacturer and provider of engineered steel buildings to commercial contractors, designing and manufacturing buildings that any erector could assemble, anywhere in the country. "As we narrowed our focus, that's when we really grew as a company," Steve says.
Around 2003, the company started investing in roll-forming equipment and now manufactures 100% of the building system. With buildings throughout the U.S. and in Europe, Africa, Asia and North and South America, the company specializes in unique, custom building solutions and has carved a niche in designing and manufacturing complex steel structures.
A STRONG CHOICE
Vulcan Steel's buildings are used for commercial and industrial facilities, airplane hangars, houses of worship and agriculture. "Steel has certain qualities that no other building material has, including its strength and the ability to span great distances," Brian says. "If you need a warehouse or have a manufacturing space that requires large spans, there is no other product that can do the job better. The strength of steel can support heavy cranes and equipment. It's the best choice for large industrial construction. It's a very cost-effective method of construction, too," he adds.
"We have multiple quality-control checkpoints throughout the process to ensure we deliver the best building possible."

Brian Browning, Executive Vice President,
Vulcan Steel Structures, Inc.
At its 215,000-square-foot manufacturing facility and headquarters in Adel, Vulcan Steel produces buildings ranging in size from 30 by 40 feet to several hundred thousand square feet.
Vulcan Steel's engineering team designs and details steel buildings based on customer specifications. The design team confirms loads and checks codes for the county or location where it will be built and then designs to those specifications.
The steel is sized depending on various factors, including the span and height of the building, wind and snow load, or other collateral loads, such as a crane to support. "We determine how much steel is required to carry the loads of the building and then our detailers break the building down piece by piece to the number of parts required and create the bill of materials right down to the number of pop rivets it requires to fasten the trim together," Brian explains.
A worker loads a steel coil.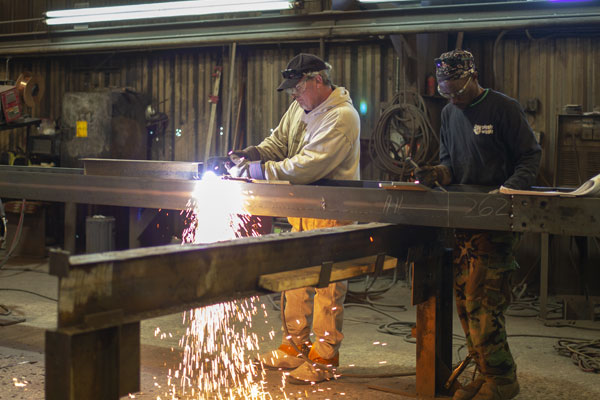 A worker fits a rafter with clips and plates.
The building is then fabricated from raw mill steel and shipped unassembled to the customer, who receives a set of drawings for the erector to use to build the system. Each piece is marked or stamped and detailed drawings indicate where each one should go. "Our background in the erection business has served us well, to know the importance of manufacturing a high-quality building that bolts together properly" Brian says. "We have multiple quality-control checkpoints throughout the process to ensure we deliver the best building possible," he adds. Vulcan is an IAS AC472-accredited manufacturer today.
QUALITY CUSTOMER SERVICE
Vulcan Steel's involvement doesn't stop with delivery. "Our district sales managers go to construction sites each week; in addition, if there are any issues or questions as the building is being erected, our customers can call and talk to them or to one of our customer service people," says Joel Voelkert, Vice President of Sales and Marketing, who leads a team of 10 inside salespeople and four outside salespeople located in Florida, Alabama and Georgia. "We deliver our buildings in a timely fashion and the quality and the ease of building our products are our primary selling points," he notes.
Steve is proud of his company's customer service. "The personal service we provide our customers is hard to find today. Our attention to detail is also unique. We want even the smallest things to go right. We strive to give our customers the best experience we possibly can. I've always believed that if you work hard and treat your customer right, success is not a difficult formula," he adds.
"We understand the importance of a deadline, quality and customer service. Our goal is to respond the same day to a customer's request."

Steve Browning, President/CEO,
Vulcan Steel Structures, Inc.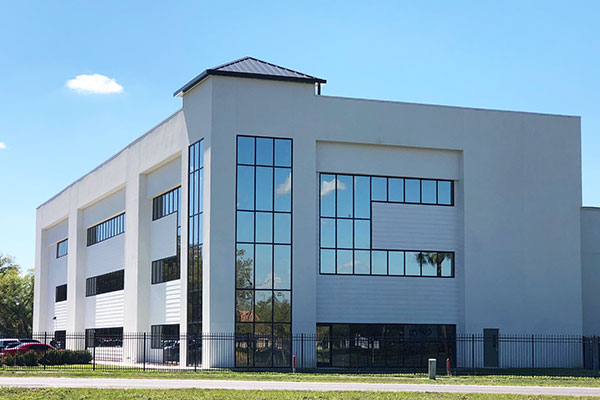 This three-story project for Qorvo in Apopka, Florida, required a tie-in to an existing building.
Vulcan Steel has provided buildings for hundreds of Dollar General stores throughout the South since completing its first one 15 years ago. The company recently provided a 115,000-square-foot office building for Qorvo in Apopka, Florida. The three-story project called for a tie-in to an existing building that required a unique engineering solution to ensure components fit together. "We designed the building to fit in between several insets of the existing building. If you saw it, you wouldn't think it was a metal building," Joel says.
The Kearney Center, in Tallahassee, Florida, is a resource center for the homeless, and another example of the company's ability to engineer complex building designs under budget. The project required multiple tie-ins and curved beams, a metal roof as well as a blended brick and masonry wall. "Not only did we provide a unique design, but we also saved our customer a lot of money by converting the original design from structural steel to a pre-engineered building system," says Jeff Spradley, Executive Vice President. Jeff has been a key member of the company's management team for over 20 years.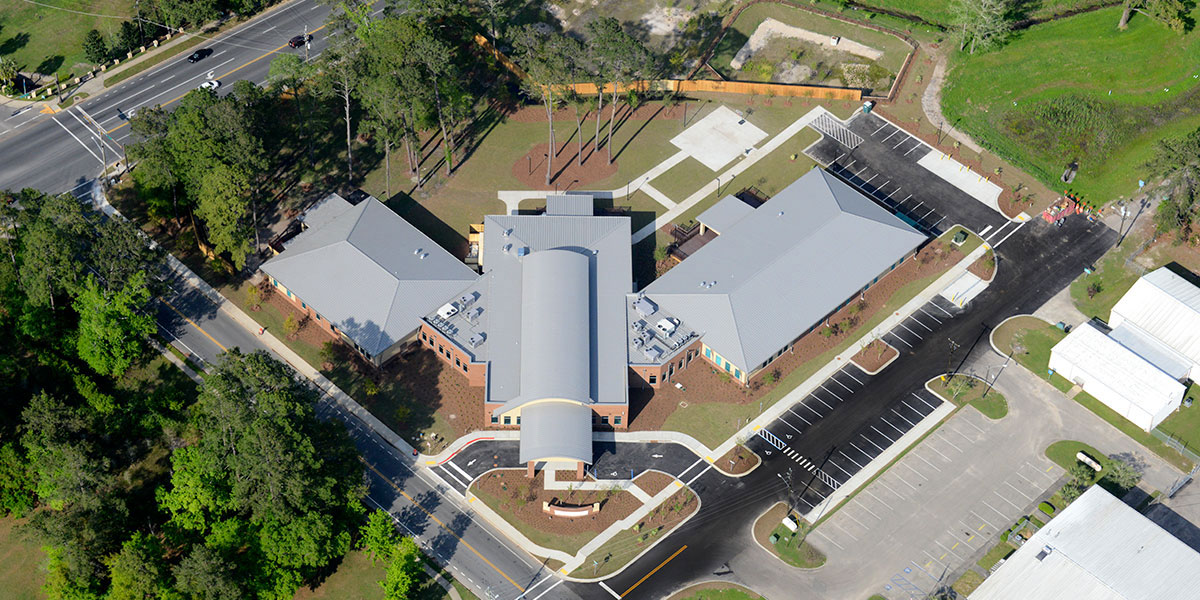 In Tallahassee, Florida, Vulcan Steel Structures completed a complex building design for the Kearney Center. This project was originally designed to be framed with structural steel. Vulcan helped reduce the cost by converting it to the company's pre-engineered system.
ADVANCING THE INDUSTRY
Following in his father's pioneering footsteps in the metal building industry, Steve is active in the Metal Building Manufacturers Association (MBMA), serving as a director for the past three years. He recently was elected as Chairman of the board of directors. "The MBMA sets the standard for our industry and helps educate others about the use of metal buildings. I feel it's important to donate my time to enhance the industry and help set its direction for its future," he says. Steve also serves as the organization's liaison to the Metal Building Contractors & Erectors Association (MBCEA), helping strengthen the bond between the two associations. "The MBCEA is working on an international accreditation program for metal building contractors and erectors," Steve notes. "We're on the leading edge of what the future will hold and having a quality accreditation program for erectors will improve the quality of our industry's buildings."
While making an impact nationally for the industry and serving a worldwide marketplace, Vulcan Steel still maintains the values of a small-town company. Each day, Steve and his executive management team have a working lunch to discuss what's going on in the business. The firm recently acquired additional equipment that will enable it to double its manufacturing capacity. "We are now roll-forming four different standing seam roof panels and we recently acquired a second pull-through welding line to increase our manufacturing capacity and shorten the lead times for new orders. We want to get the building there when our customer wants it," Steve says.
Each year, the company caters a Christmas luncheon for the entire plant, a tradition that Billy began. Vulcan Steel has manufactured and donated metal buildings to the local school system and donated a 6,000-foot building to the Boy Scouts of America's Camp Patten. The "Vulcan Pavilion" houses a kitchen, serving area, bathrooms and storage facility for events and training.
Joel says the firm doesn't have multiple layers of management, which enables people to get the jobs done efficiently. "When a customer calls, he or she talks to a coordinator who takes care of everything from the time the order comes in to the time it goes to the shop," Joel says. "We've cut layers of processing out, so it minimizes the chance of error when we manufacture our buildings. People do multiple tasks to make sure the job is done right."
Vulcan Steel has a family culture, with many employees who have been with the company for over 20 years. "I think, at the end of the day, people stay with the company because they feel like they are contributing," Steve says. "When you take the talent, a person brings and you listen and apply their talent and ideas to the organization, it makes a difference in how they feel about their job. Employees can contribute and feel their voices are heard here at Vulcan."
From left to right: Executive Vice President Brian Browning, President/CEO Steve Browning and Chief Financial Officer Jeanie Smith at Vulcan Steel Structures, Inc.'s headquarters in Adel, Georgia.
___________________________
Formerly a newspaper reporter, Tracy Torma is a multi-award winning author and editor who's been penning people's stories for 40+ years.
Reprinted by permission of The Who's Who in Building & Construction.
See the article here.
Accompanying video: