This edition of the Vulcan Steel Structures e-newsletter contains:
Welcome from President Steve Browning
News about Vulcan' s Latest Project
Featured Project: Port Jax Trade Center
Vulcan Industry Spotlight: MBCEA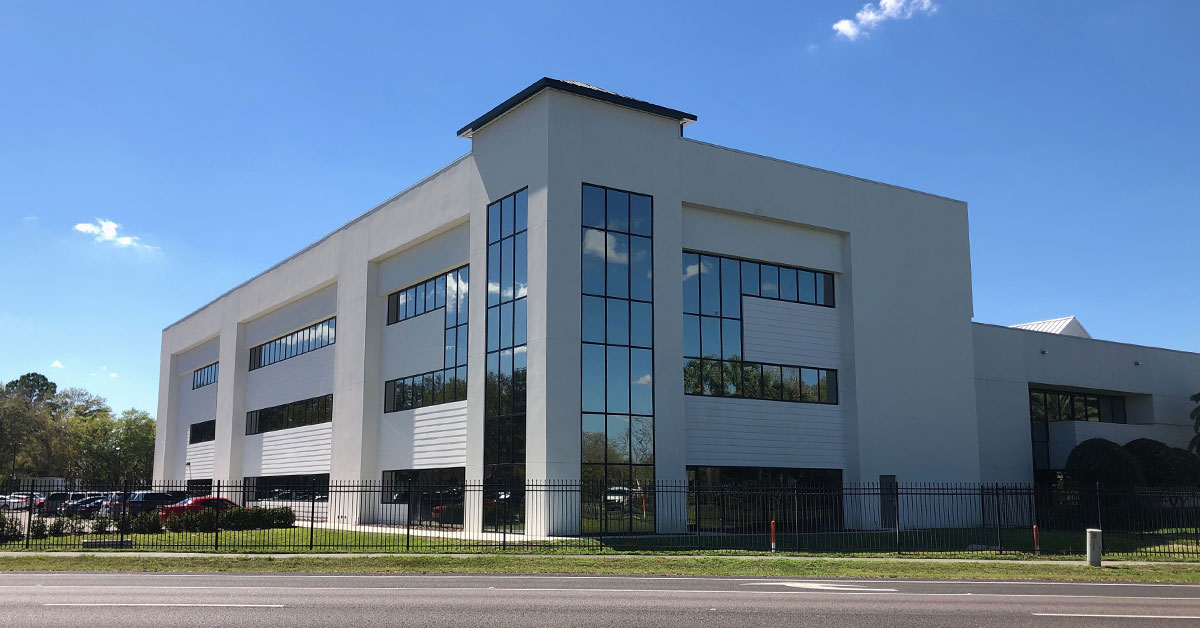 Welcome from the President
Memorial Day is for remembering those who have died while in the military service of their country. Yesterday we had the opportunity to reflect on the sacrifices made on our behalf throughout the history of our nation.
And during this time, I also took time to reflect and take stock not only of the business that I'm proud to be a part of, but also the strong and resilient communities that Vulcan Steel Structures plays a role in.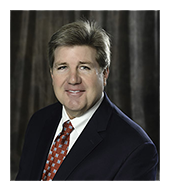 I have the honor to work with a talented team of folks both within Vulcan and through our many business partnerships. It's that network that helps our business continue to grow and be successful no matter what may be taking place.
For example, last month, we told you about a huge project taking place in Auburn, Alabama, with the Shinhwa Group. Well, we just received another order from them for that project, taking the total project to 289,162 square feet. We'll be sure to share some updated project pictures with you in the next newsletter.
In this edition, you'll learn more about the benefits of membership in the MBCEA and the positive impact it can have on your business. They are currently holding their 51st Annual MBCEA Conference virtually, so be sure to sign up for their information-packed sessions taking place through June 18.
Thank you for your continued support of Vulcan Steel Structures. Let us know how we can help you with your next project
Until next time,
Steve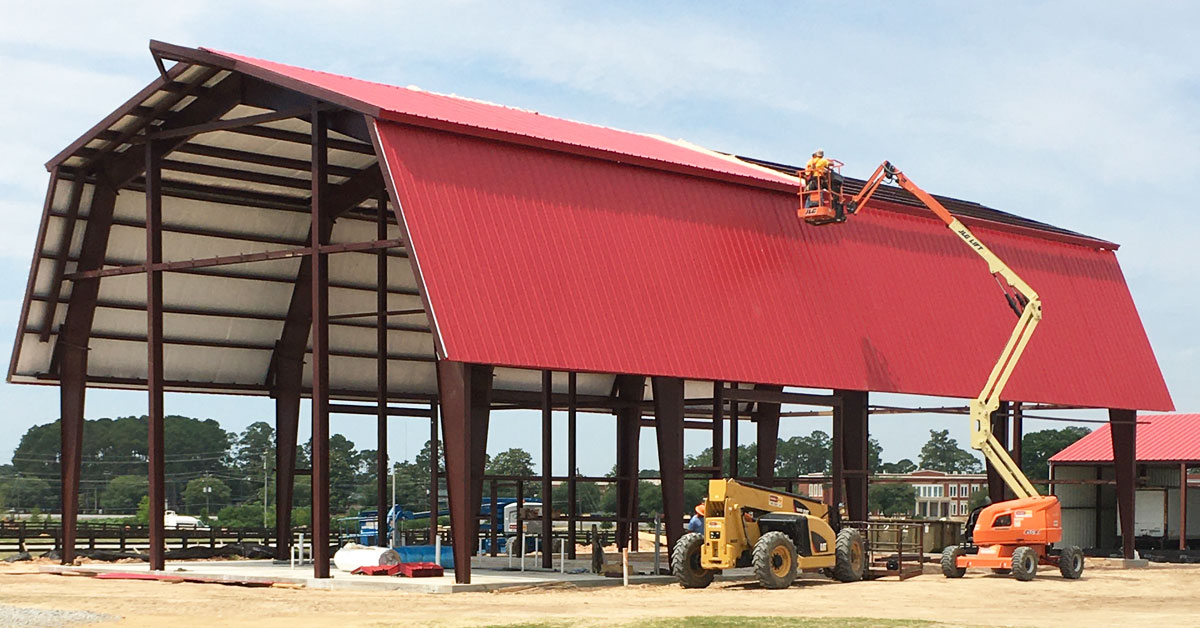 Vulcan News
Vulcan Steel Structures provided the metal building structure and metal roof for a new barn under construction at the University of Georgia Tifton campus. This campus brings advanced degrees from the state's flagship university closer to home for many in South Georgia, the hub of the state's multibillion-dollar, diverse agricultural industry.
The new barn will be used for farm implement storage and also includes an office for the farm manager and researchers. It is located in the midst of the campus' working farm, across the street from the Tifton Campus Conference Center. It replaces one of the original five campus barns.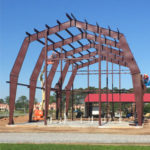 The new barn consists of a metal building manufactured by Vulcan Steel Structures and has a traditional gambrel-style metal roof, topping out at 42 feet tall. The 24-gauge PBR Kynar roof, coated in a classic UGA red, is also made by Vulcan. Red-roofed barns are an iconic part of the Tifton campus and have been around since 1920. With its proximity to the conference center, the barn will have lap siding and slider doors.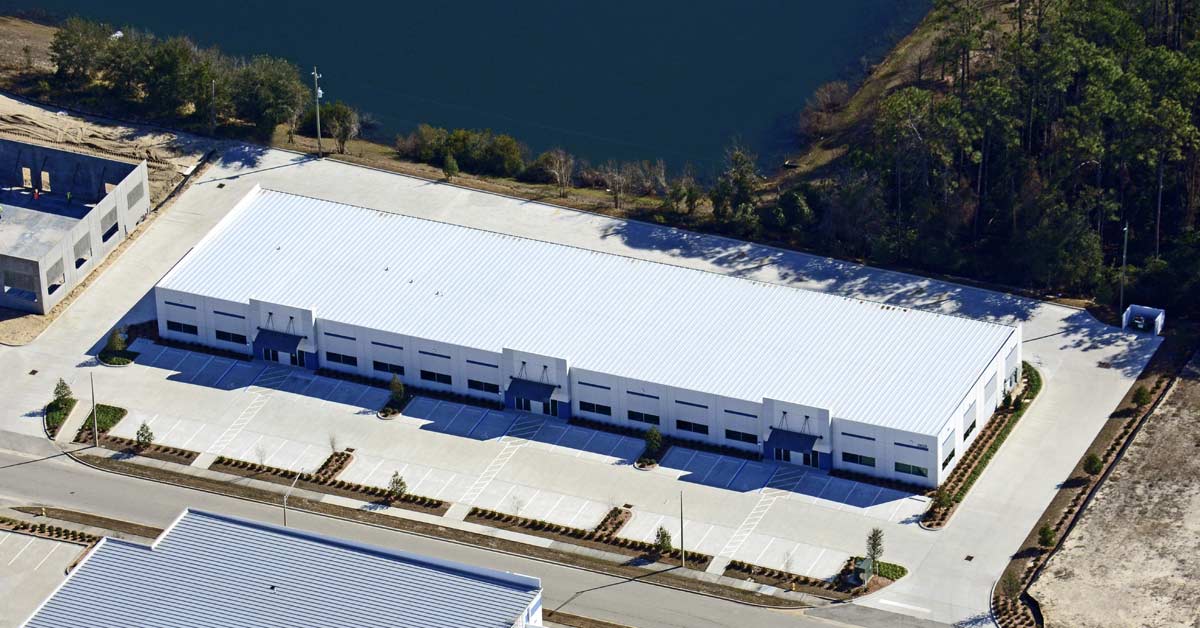 Featured Project: Port Jax Trade Center
The Port Jax Trade Center, located adjacent to the Port of Jacksonville, offers over 2 million square feet of space for a variety of businesses. Located 3 miles from one of the country's largest ports, the facility will contain a total of eight buildings, six of which will have been manufactured by Vulcan Steel Structures. The latest building project is 80,000 square feet and features 45-foot bays, a standing seam roof, and tilt-wall masonry. The Port Jax Trade Center comprises LEED-conforming buildings with elements such as lifetime roofs and LED fixtures included.
Vulcan Industry Spotlight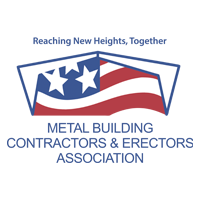 Vulcan Steel Structures is a proud industry member of the Metal Building Contractors and Erectors Association (MBCEA). This is the only association dedicated solely to the contractors and erectors in the metal building industry – the people and companies that put together the buildings that Vulcan makes. As an industry member, Vulcan works directly with the association on the best practices for the entire metal building industry, ensuring that its buildings are built to the highest standards.
MBCEA was founded in 1968 and provides programs and services to metal building contractors and erectors that help them to be the best they can be. These include:
Education – Online access 24/7 to training programs and educational videos, as well as ongoing training programs and seminars around the country through the MBCEA regional chapters.
Accreditation – The International Accreditation Service's AC478 is the only accreditation for metal building contractors and erectors, and MBCEA provides support and training to achieve this important recognition. AC478 provides tangible proof that industry builders have the personnel, organization, experience, knowledge, management procedures and commitment necessary to achieve quality results.
Industry Events – In addition to regional training and social events, MBCEA has its annual conference each spring where it recognizes its Building of the Year award winners. This year the conference has moved online and runs through June 18th. It is free to everyone – get more information here: https://www.mbcea.org/annual-mbcea-conference/
Industry Opportunities – MBCEA has numerous opportunities to be involved with the association and the wider metal building industry through its many events as well as committees, networking and professional growth opportunities.
Before taking over this year as Chairman of the Metal Building Manufacturers Association (MBMA), Vulcan President Steve Browning served as the MBCEA liaison with MBMA. In that role he saw how committed the MBCEA was to improving the metal building contracting and erection industry. "I'm most impressed with the safety and quality programs that they've developed," Browning notes. "These not only improve their members' businesses, but also enhance our industry as well. The networking opportunities are another valuable benefit of membership. Simply put, I see MBCEA as a dynamic organization that's continually working toward improving their chosen craft."
Call today and discuss your next project with an experienced
Vulcan Steel Structures representative.
1-800-258-3369