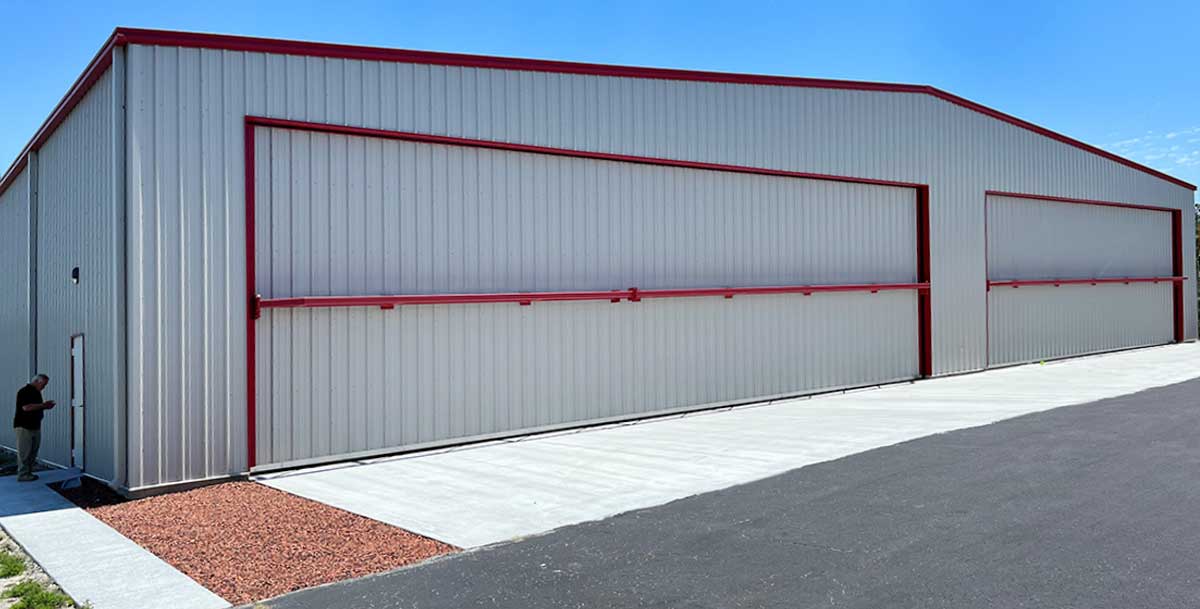 With the ability to provide economical, clear interior spans, pre-engineered metal buildings are an ideal structural choice—particularly if you're constructing an airport hangar. One of the primary reasons is because airport hangars require wide interior space–with no columns—to house aircraft.
by Ben Wheatley
Vulcan Steel Structures Inc., Adel, Ga., provided the steel used to construct a 9,100-square-foot hangar recently at Cape Fear Regional Airport, also known as Howie Franklin Field, located in Brunswick County, N.C. The 130-foot-wide hangar, which can accommodate four aircraft, has a partition in the middle separating it into two large spaces.
"Metal buildings are also secure, customizable, energy efficient, strong and long lasting," says Joel Voelkert, Vulcan's vice president of sales and marketing. "In fact, these types of steel structures are so durable, they can last up to 40-50 years. Metal also can stand up to significant environmental and weather pressures, and these structures require very little maintenance."
Fire is a major concern for aviators because of the volatility of aircraft fuel used in and around the hangars. But because steel is non-combustible, it's an excellent choice to help guard against hangar fires, Voelkert adds.
It took just about three months for GRA Construction, Southport, N.C., to build the airport hangar, but the company's president, Guy Auger, says it took between six and seven months to plan. This time included making engineering blueprints, obtaining permits and developing a plan to ensure that stormwater wouldn't accumulate in the area because of the addition of the newly constructed facility.
"Creating this plan to ensure that water is absorbed into the ground and doesn't collect in ponds is the hardest part of building airport hangars," Auger says. "It takes time, but it is essential because pools of water would attract birds, and birds are among the worst things for an airplane."
Auger and his team are well versed in the process because they have constructed six airport hangars at Cape Fear Regional Jetport, including one hangar that's large enough to house up to 10 aircraft. In addition, GRA Construction has built all kinds of other metal structures in its more than 40 years of operation.
Auger has been a customer of Vulcan for more than 15 years. He says it's his long-standing relationships with the steel company and airport director Howie Franklin that helped facilitate Vulcan being chosen to provide the steel for the hangar.
Hangar owner Roland Betker uses one half his new hangar and leases out the other half. Betker also has nearly 30 years of experience in the metal building industry, with a 13-year concentration on just the manufacture of hydraulic metal doors.
"I've worked with Vulcan for a long time, and I think they have the best work ethics in the industry," Auger says. "They're especially good at handling any negative issues that might come up in the field. They take really good care of their clients.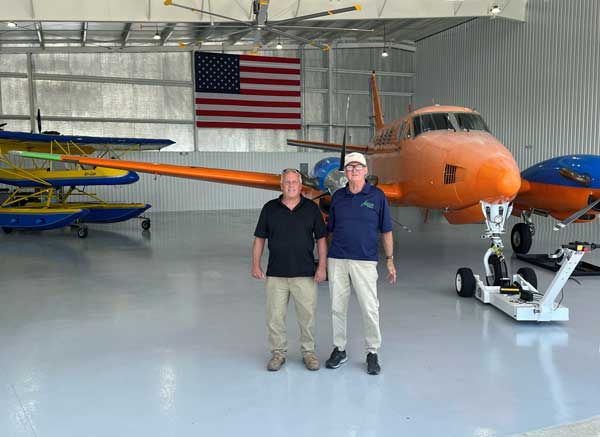 "They've always given me a quick response on every issue I've ever had," he adds.
Auger says he enjoys operating his "quiet" company that doesn't have a website or do any type of advertising to attract business.
"Most of our customers are repeat customers. And all my work is from referrals. I've always said I pick my clients as much as they pick me," he says. "I think projects go far smoother, and everyone is happier when the owner and contractor team up together."
He says two of the things that set GRA Construction apart from its competitors are that his company's workers have excellent skills and that the company owns all its equipment.
"We have excavators, forklifts, scissor lifts and all the other equipment to do a project ourselves. This way, we can take control of most of aspects of a job and rely less on subcontractors," he says. "Typically, we only farm out to electrical, plumbing and foundation work subcontractors."
Auger praises the airport's namesake Franklin for his passion for aviation and for significantly growing the airport facility since he began serving there in 1994. As a public airport, Cape Fear Regional Jetport is available to all pilots who wish to use it. In addition to supplying airplane fuel and storage, the airport operates two aircraft maintenance shops and runs a skydive operation and airplane and helicopter flight schools.
Franklin is a colorful figure who served as Air Force One's only flight steward to have worked for five U.S. presidents. Both Republican and Democratic presidents he served include Presidents Gerald Ford, Jimmy Carter, Ronald Reagan, George H. W. Bush and Bill Clinton.
He flew extensively with Dr. Henry Kissinger, Secretary of State, on his Shuttle Diplomacy Missions during the Nixon and Ford administrations. He also spent 29 years in the U.S. Air Force, reaching the rank of Chief Master Sergeant.
The new hangar represents just a part of the continuing growth of Cape Fear Regional Jetport—a facility that helps attract more visitors who come for good weather, golf, fishing and the area's beaches.