This edition of the Vulcan Steel Structures e-newsletter contains: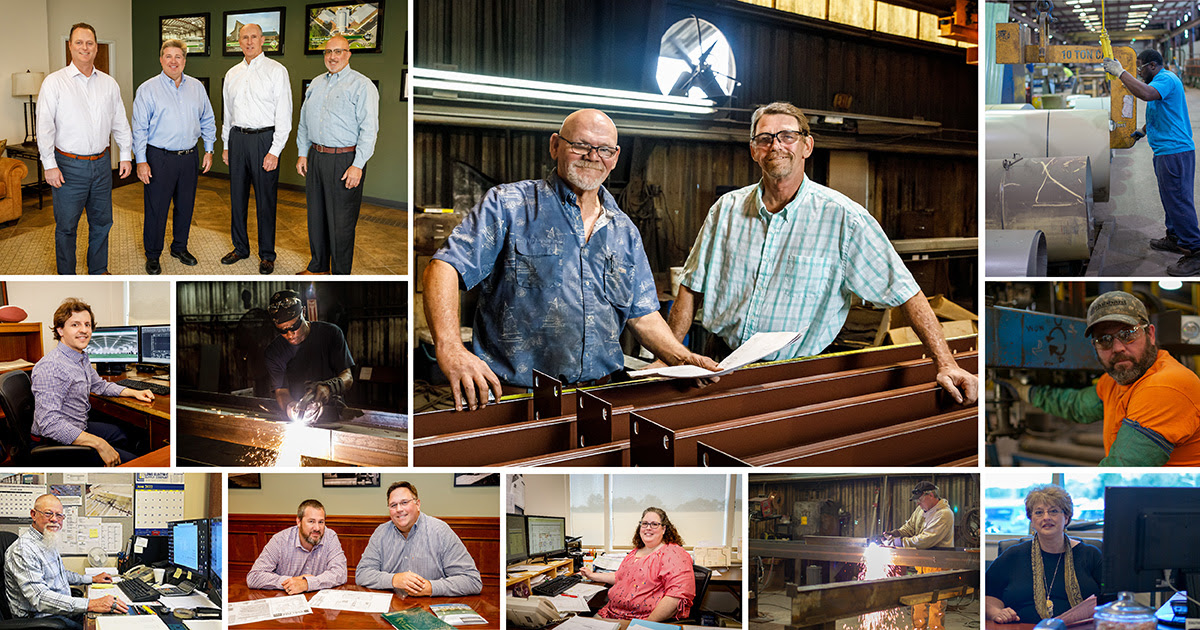 All Roads Lead to Georgia
Steven Eppes lived a childhood full of adventure and exploration. As the son of an Air Force veteran, he experienced living everywhere, from Germany to North Carolina. This sparked his love of travel and seeing new things.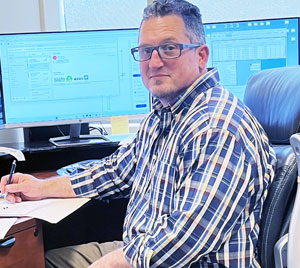 As an adult, he pursued his passion for travel and has visited all 50 states in the US. Along the way, he found love in Albany, Georgia, where he moved to in 2002. He met his wife, Hannah, at the gym where he worked out for 6 months to impress her. They got married two years after their first date.
In 2017, Steven joined Vulcan Steel as a detailer/checker. He brought his technical skills and experience from previous jobs to his new role in the metal building industry. Stephen is now a member of the design team and enjoys planning out metal structures with the help of his colleagues, building on his past experiences, and expanding his abilities.
Steven is proud of how much he has learned about metal buildings and life in general during his time at Vulcan Steel. He is eager to learn more and improve his skills with new challenging projects in the future.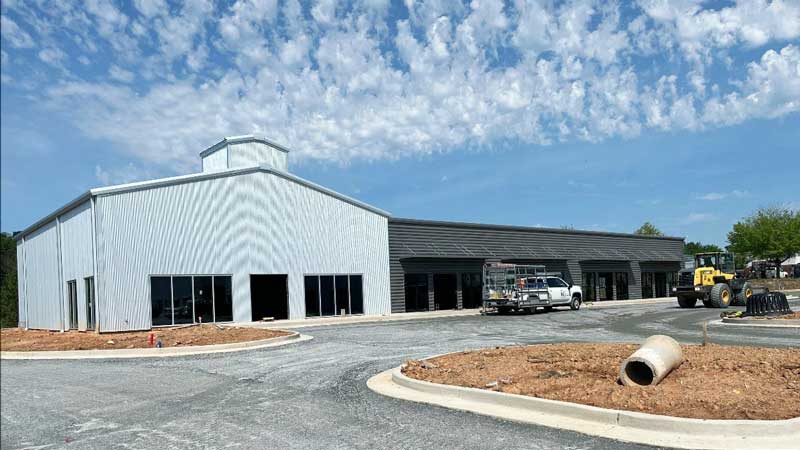 The Business Park at Williams
Just over four acres in Columbus, Georgia is being transformed into the Business Park at Williams and it will house a variety of businesses and a church. The buildings will offer tenants drive-in doors and loading docks for tractor-trailer deliveries. The spaces will range from 1,680 to 4,472 square feet.
Vulcan Steel Structures manufactured the buildings for this project and Thayer Bray Construction, LLC, of Phenix City, Alabama is the general contractor.
The business park is comprised of two different buildings, each having a 44-gauge Galvalume UD 324 roof. A combination of vertical and horizontal panels adds architectural definition to the exterior. The exterior walls are a combination of 26-gauge Galvalume PBC and PBR panels and 26-gauge 7.2 Charcoal Gray panels.
Building one is made up of three gable buildings with two single-slope buildings totaling 15,000 square feet and building two is made up of one gable building and one single-slope building totaling 9,600 square feet.
(Pictured L to R) Tony Bouquot, MBMA; Ben Browning, Vulcan Steel Sales; Steve Browning, Vulcan Steel President/CEO; Ryan Peck, Vulcan Steel EVP; Jeff Spradley, Vulcan Steel EVP
Milestone Month at Vulcan Steel
Vulcan Steel kicked off May by receiving the 2022 Superior Safety Award at the 2023 MBMA Spring meeting in Nashville, Tennessee. This award celebrates Vulcan Steel for no recordable accidents in 2022, a remarkable achievement that demonstrates its dedication to safety. They were one of only two companies to receive this 2022 award.
"It is with great pleasure and pride that I announce our company's recent achievement of the Superior Safety Award. This award recognizes our commitment to maintaining a safe workplace for all employees and our dedication to minimizing accidents and injuries on the job." Steve Browning wrote in an email to all Vulcan Steel employees.
"Our company has achieved this award due to the hard work and diligence of each one of you. Your attention to safety protocols and your commitment to maintaining a safe workplace has paid off, and we can all take pride in this recognition." he continued.
But they didn't stop there, as Vulcan Steel also re-certified for AC472 and maintained their Certificate of Accreditation from the International Accreditation Service. To learn more about AC472, visit the IAS website.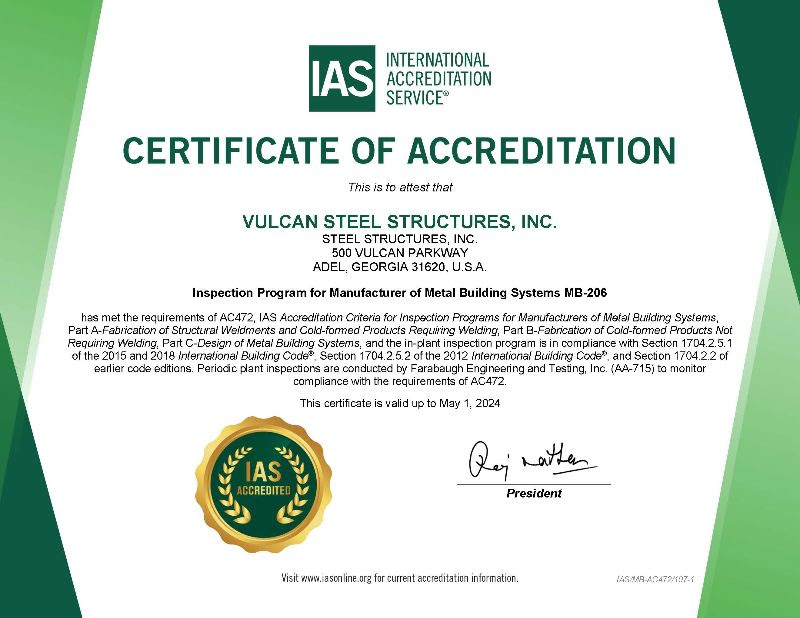 Call today and discuss your next project with an experienced Vulcan Steel Structures representative.
1-800-258-3369