Soil, Site and Super-Sized Buildings Pose Challenges for Boatyard Facility
Grand Banks Yachts, Ltd., a well-known and respected brand in the motor yachts industry, wanted to make a real splash in the nautical world when planning the design and construction of its Stuart Yacht Basin, a full-service boatyard facility in Stuart, Florida, which also serves as the company's U.S. headquarters.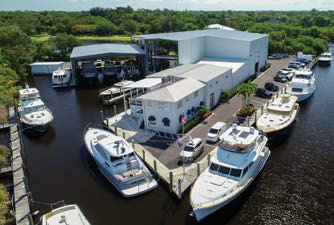 Hank Compton, managing director of Grand Banks Yachts, desired to create the type of service and sales facility that yacht owners would expect because of the kind of luxury vessels they owned.
"We planned this to be one of the most state-of-the art service facilities for our region on the East Coast. We want to wrap our arms around our customers and give them an unrivaled experience," says Compton. "It needed to be a facility that's in line with the vessels they had purchased."
He conceived the new facility would offer sales, storage, slips and a full-service boatyard for after-sale service, maintenance and upgrades.
To begin, Grand Banks Yachts purchased an existing 12,000-square-foot boatyard that needed some major upgrades. About the same time, Compton hired general contractor Leighton Construction, LLC, and subcontractor Bayview Construction Services LLC, which is an authorized dealer of metal buildings for Vulcan Steel Structures.
COMPLEXITY & COMPLICATION
The multi-phased project called for removing some old structures, building a new connected building, erecting a structure over a 50-ton boat crane site and installing an angled edge roof to improve drainage.
John Leighton, owner of Leighton Construction, notes that planning for the yacht basin project took nearly a year because of the project's complexity. Adding to the challenge was the need to remove and replace existing facilities in a certain order so that Grand Banks Yachts could remain operational throughout construction.
Leighton says one of the first major challenges the team faced was the need to improve the geotechnics of the site, which involved using various technologies to help correct geological issues.
"The soil was terrible, and we needed to drill down to deep, solid soil before pumping concrete and inserting steel in the holes. We then poured a new concrete slab capable of supporting the planned number of metal buildings," Leighton says. "Our team took a multifaceted approach in planning that involved the general contractor, structural engineer, and building manufacturer. It was also critical that the manufacturer needed to know the engineering constraints of the site so that the buildings could be designed properly.
"The facilities were designed to adhere to Florida's building restrictions that are drastically different from other areas of the country. The state's building codes are written to ensure that structures can withstand heavy wind loads."
Metal buildings were the recommended choice for this project. In addition to being rust and corrosion resistant, metal buildings are virtually maintenance-free for a longer period than conventional buildings. Vulcan provided 24-gauge Silicone Polyester Polar White coating on the roof and 26 gauge Silicone Polyester Polar White on the walls.
"Metal buildings are economical, quick to install, and engineered to withstand extreme weather," says Ken Ringe, owner of Bayview Construction Services. "In addition, metal buildings can provide a clear interior span that's wider than other types of structures—an attribute that was very important in this project."
CHALLENGES RANKED "A 10 ON A 10-POINT SCALE"
Ringe says, "The construction challenges faced in this project made it rank about a 10 on a 10-point scale. The size and shape of the triangular-shaped port was truly unusual," he says. "Stuart Yacht Basin's new facilities occupy the same footprint as the original boatyard."
Leighton adds that the construction site itself posed its own challenges.
"There was only one tiny road, meaning it was sometimes difficult to bring materials and equipment onto the site. And, given that the facility is adjacent to the water, we were constantly battling tidal issues," he said.
Leighton Construction required its construction supervisor to be on the project site every day throughout construction to help coordinate the flow of work.
"Everybody worked hand in hand to deal with all the challenges we had. Grand Banks Yachts worked closely with us, too," Leighton says.
Leighton Construction is well versed in meeting these types of construction challenges, and the company has constructed numerous industrial plants, power plants and other major facilities.
"We've also developed entire neighborhoods, so we've done some considerably complicated projects. But this must be one of the most unique projects we've ever done," he notes.
Ringe adds, "We feel fortunate to have been part of the team. Vulcan is a wellrespected manufacturer and Grand Banks Yachts is a major corporate player in the marine industry."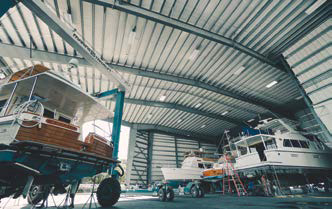 ABOUT THE YACHTS
Compton says that Grand Banks Yachts' customers purchase yachts ranging from about 42 feet—at a cost of approximately $1.6 million—to about 85 feet, which may cost as much as $10 million.
Grand Banks Yachts was founded as American Marine in Hong Kong by Robert Newton and his sons, John and Whit more, than 70 years ago. The company moved to Junk Bay, Hong Kong, in 1962 where it was building heavy sailboats and large motor yachts.
The company's reputation grew and it began attracting prominent marine architects. About five years after the boat factory was moved to Singapore in 1968, the company decided to make all their vessels hulls out of fiberglass not wood. Fiberglass vessels positively impacted the industry because of the material's strength, weight, durability and ease of maintenance.
Grand Banks Yachts moved its production facility to Malaysia in 1995. Its expanded and revamped factory now uses some of the most sophisticated systems and technology in the boat-building industry.
Compton says he's quite pleased with his significantly improved boatyard facility.
"Primarily, what we've done is weatherproof the facility and place the entire property under cover. As a result, we've obtained more usable space," he says. "We gave the facility an updated look and added an electric gate, new signage, and superior landscaping. We also rebuilt all the docks, changed out all the electrical components and we're dredging the area around the boatyard, so we'll have an 8-foot water depth," he adds.
Typically, Grand Banks Yachts' customers purchase their vessels from the company's production facility in Malaysia and bring them to Stuart Yacht Basin for commissioning.
"We hope customers will be pleased enough with our service and operational facility to bring their yachts back to us for all their maintenance and upgrades," Compton adds.
Steve Browning is President/Owner of Vulcan Steel Structures in Adel, Georgia. Steve is very active in the leadership of the metal building systems industry, as is a former Chairman of the Metal Building Manufacturers Association (MBMA).