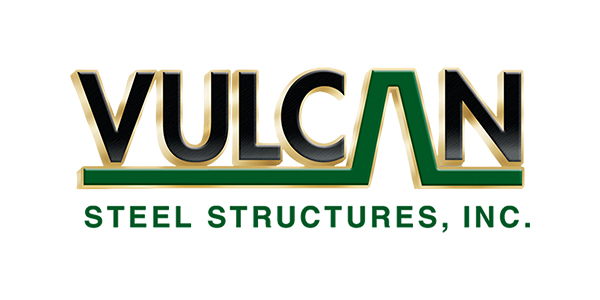 This edition of the Vulcan Steel Structures e-newsletter contains: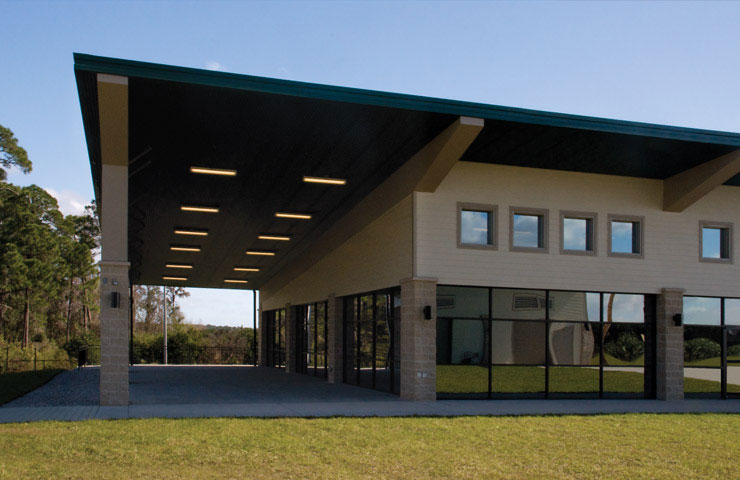 Spring is around the corner!

Greetings,
Looks like we have another taste of winter on the way, even though we've already had some 80-degree days here in Georgia and signs of spring are starting to show. The resilience we see in springtime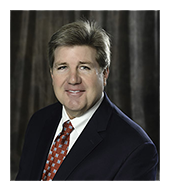 is similar to what we've experienced as we come back from a pandemic.
Throughout 2020 and 2021, businesses such as Vulcan Steel Structures had to become extremely nimble and think outside the box to ensure we met our production demands. As we progress into 2022, the new way of reacting to challenges shouldn't fade but instead be honed into best practices.
Tom Boal, current chairman of the Metal Building Manufacturers Association, states in his recent column that "change helps us grow." And I couldn't agree more. We've had exciting growth these last few years, despite the challenges. I'm so very proud of the Vulcan team and how they adjusted as needed and continue to look for ways to improve.
In this issue, we'll introduce you to one of our newest team members, Cole Thornton, who recently joined the sales team and is off conquering the metal building world.
And you'll be reintroduced to Providence Church (June 2020), which now has a new name and a new building. I hope you enjoy seeing the end results of a four-year building initiative by Grace City Church.
And don't forget to register for the upcoming 53rd Annual MBCEA Conference and MBMA Spring Meeting in Tucson, Arizona. Visit mbcea.org to register.
Until next time,
Steve
Vulcan News: Meet a Rising Star

If he's not on a field somewhere playing flag football or on a court playing volleyball, basketball or pickleball, then chances are you'll find Cole Thornton hard at work for Vulcan Steel Structures. As one of our newest employees, this Valdosta State University graduate was eager to join our seasoned team.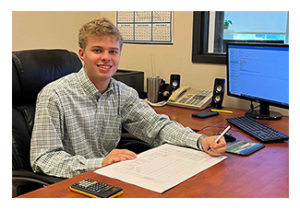 "The work environment is awesome here at Vulcan. This company is filled with very knowledgeable and tenured people that are willing to help in any way they can. Vulcan Steel truly wants to see the staff succeed alongside the company," Cole stated.
This proven self-starter and academic achiever graduated with a business management degree and put his learning to practical use during college as the owner/operator of a power washing business. Cole's experience generating business and satisfying customers will be put to good use as a member of the Vulcan Steel sales team.
But Cole coming to work for Vulcan Steel is no coincidence. "During my junior year of college, my dad suggested that I should go work for Vulcan Steel after graduation. Fast forward two years, I was interviewing for several other sales positions when one day, out of the blue, Steve Browning reached out and asked me to come in for an interview. After being offered the job, I knew Vulcan was the place for me," Cole said proudly.
"I've only been with Vulcan for eight months, but in that time period my leadership skills, as well as communications, organization and time management skills, have all improved," he stated. "I know this position will be one I can grow into and look forward to a long, successful career with Vulcan."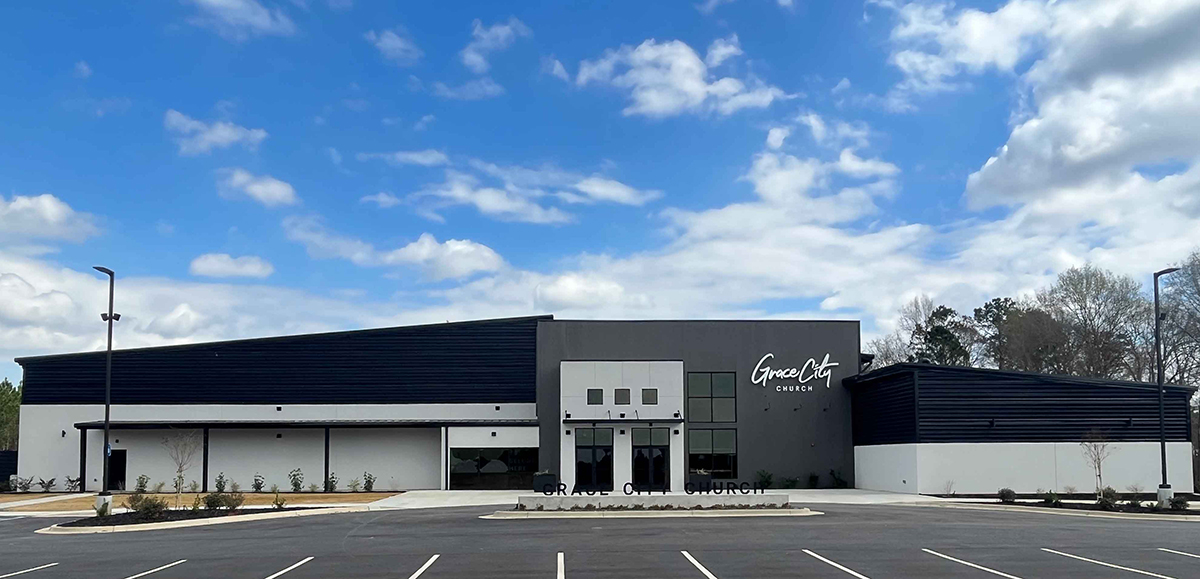 Featured Project: Grace City Church

Not all buildings are created equal. Design, building requirements and construction materials can all differ greatly from one project to another. But the most dramatic difference can be the building's purpose. Metal building systems are engineered to fit a wide variety of needs and purposes and the newly completed Grace City Church in Albany, Georgia, demonstrates that to the fullest extent.
The dream of a new church building began in 2017 with the "Forward – Building a Legacy Beyond Ourselves" initiative. And finally, in the fourth quarter of 2021, the church's dream became a reality when they moved into this exceptional new facility.
Constructed by Master's Plan Church Design & Construction of Tulsa, Oklahoma, the 20,000-plus-square-foot facility includes a 24-gauge Kynar BL 216 roof and 26-gauge PBR Signature 200 walls. Its design is accented with multiple overhangs on both the sidewalls and endwalls.
Grace City Church is now in the planning stages for phase 2 of its building initiative with several other standalone buildings on the horizon. Check out the completed project and upcoming additions here.
Industry News: 2021 MBMA Student Design Competition

The Metal Building Manufacturers Association (MBMA) is pleased to announce the winners of its inaugural Student Design Competition. On February 15, 2022, the association acknowledged five students and their faculty sponsors in an online ceremony and awarded a total of $16,000 in awards.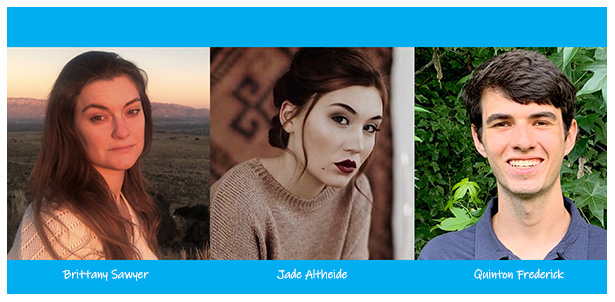 Brittney Sawyer, a student at the University of New Mexico (UNM), earned the first-place prize of $5,000. She was advised by Professor Kristina Yu of the School of Architecture and Planning. Second place, with a prize of $3,000, was awarded to Jade Altheide, also a student at UNM and advised by Professor Yu. The third-place honor and $1,500 prize went to Quinton Frederick, a student at the University of North Carolina (UNC) at Charlotte. His faculty advisor was Josie Holden-Bulla of the College of Arts and Architecture.
MBMA also presented two awards of merit, each with $500 in student prizes. UNM's Devon Adams, advised by Professor Yu, and UNC Charlotte's Eliza Marie Cassar, whose advisor was Peter Wong, earned these distinctions. In addition to the student's achievements, the faculty sponsors received monetary awards.
"I am pleased to congratulate Brittney Sawyer and her advisor Kristina Yu on winning first place in the 2021 MBMA Student Design Competition," says Tony Bouquot, MBMA's general manager. "With a total of 64 entries, the contest was a great success. All nine finalists presented impressive designs, leading us to add two awards of merit to our program to recognize these stand-out scholars and their faculty advisors."
The competition took place during the 2021 fall semester, with entries due December 15. The contest for undergraduate and graduate architecture students challenged each participant to create an innovative metal building design for a one- or two-story elementary school housing approximately 200 students.
The five-member panel of judges included: Eric F. Pros, AIA, director of design for DS Architecture in Cleveland, Ohio; Terri Meyer Boake, LEED AP, professor at the University of Waterloo's School of Architecture, Cambridge, Ontario; Lauren Gwaltney, AIA, senior associate with Williams Blackstock Architects in Birmingham, Alabama; John Underwood of Behlen Manufacturing Company, Columbus, Nebraska; and Robert Tiffin with Silvercote in Greenville, South Carolina.
"Our goal with this competition was to introduce architecture students to metal building systems," says MBMA Director of Research and Engineering Lee Shoemaker. "But we at MBMA were introduced to how creative, knowledgeable and enthusiastic all of the students were with their designs."
Call today and discuss your next project with an experienced Vulcan Steel Structures representative.
1-800-258-3369